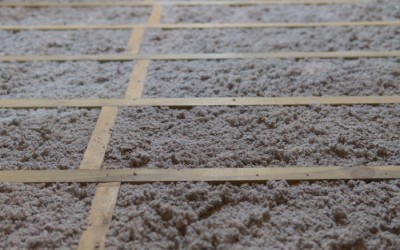 Every home needs insulation to maintain a comfortable temperature and minimize noise. But what if insulation could do more? What if your insulation could also control pests in your home?  Now, it can!
TAP® Insulation is a state-of-the-art product that combines eco-friendly insulation with a borate-based pest control product that kills pests like termites, cockroaches and ants in homes and businesses. This game-changing insulation product can be used in both new and existing structures and can be easily applied on top of your current insulation.
Florida Pest Control is a licensed installer of this innovative pest-resistant insulation in Florida.
How Does TAP® Pest Resistant Insulation Work?
It's an eco-friendly form of "blown-in" cellulose insulation that's been infused with borate. When pests come in contact with the insulation they inadvertently ingest the borate because insects groom themselves. The borate accumulates in their gut, causing them to die of malnutrition or dehydration. Pests cannot build up a tolerance to the borate. This means that once installed, this insulation never needs to be replaced. So long as the insulation is present, it will continue to kill pests that come in contact with it. Ants, termites cockroaches and silverfish are just a few of the many types of insects that this insulation helps control.
Need a Pest Control Estimate?
Benefits of TAP® Pest Control Insulation
There are many reasons why TAP® Insulation is revolutionary for both insulation and pest control. In addition to its pest control abilities, the top benefits of TAP® Insulation include:
TAP® can reduce heating and cooling costs by up to 30%.
It's environmentally friendly because it's made in part from recycled paper and generates no post-installation waste. 
TAP® is the only insulation registered with the U.S. Environmental Protection Agency (EPA). It also includes an Energy Star® label and Underwriter's Labs (UL) classification.
It can fill the small crevices that only blown-in insulation can.
TAP® can be installed on top of your current insulation and includes a lifetime warranty.
It's designed to resist mold and mildew and to help limit the spread of fire
Licensed TAP® Insulation Installer
At Florida Pest Control our goal is to keep our customers pest-free. Florida has a large number of pests for reasons ranging from the climate to the economy. The prominence of pests in the Sunshine State, combined with the hot weather we experience makes TAP® Pest Control Insulation a great solution for Floridians. We're proud to have licensed technicians that can quickly and efficiently install it in your business or home in Florida. For a free quote, give our team a call today!
TAP® Pest Control Insulation FAQ
What does TAP® stand for?

Thermal Acoustical Pest control insulation

What pests is TAP® pest control insulation effective against?

How much does TAP® insulation cost?

The cost of installation depends on the location and size of the structure. However, it will ultimately pay for itself in reduced energy bills and pest control expenses. 

How does TAP® Insulation affect pests?

When insects come into contact with this pest-resistant insulation, the borate clings to them. When pests groom themselves or each other, they will ingest the borates, which will kill them.

How is pest control insulation installed?

TAP® Insulation is blown into your attic by licensed professionals such as those at Florida Pest Control. It can be applied over existing insulation.

Is TAP® eco-friendly?

Made of over 80% recycled newspaper, TAP® is very environmentally friendly. It repurposes a material that would otherwise end up in a landfill.

Does TAP® kill rodents?

TAP® Insulation does not kill rodents. Borate only affects insects.

Is TAP® Insulation dangerous?

The borate in TAP® does not pose a threat to humans or pets. It is not flammable, either. In fact, borates are a fire-retardant!

Does home insulation lose effectiveness over time?

Once installed, the borate-infused pest-resistant insulation does not wear off. It will continue to be effective as long as it is installed.

How long do TAP® Insulation services take?

It typically takes four to six hours to install TAP® depending on the size of the structure.
Back to Residential Pest Control
TAP® Insulation Serving Central FL, Northern FL and the Panhandle
Gainesville | St. Augustine | Ocala | Crystal River | Palatka | Starke | Lake City | Jacksonville West | Jacksonville South | Tallahassee | Ft. Walton Beach | Pensacola | Panama City | Milton | Daytona Beach | Winter Haven | Orlando | Kissimmee | Tampa | Leesburg